I am an author, speaker and award-winning journalist with 20 years of experience writing about personal finance. My work has appeared in Forbes, Kiplinger's Personal Finance, Chicago Tribune, MSN, Yahoo and many more print and online publications.
I also am a mom of three awesome kids and was a caregiver for my own mom, who had Alzheimer's disease. That made me part of the sandwich generation. It was a stressful situation I wouldn't wish on anybody, but it gave me great insight into how financially devastating Alzheimer's and dementia can be. And it made me realize how important it is for adult children to be having conversations with their parents about their finances before a health issue or other emergency leaves their parents unable to manage their finances on their own. That's why I wrote Mom and Dad, We Need to Talk: How to Have Essential Conversations With Your Parents About Their Finances. In the book, I offer encouragement and guidance to people who want have an open dialogue with their parents about their finances but don't know where to start, what to ask, or how to get Mom and Dad to feel comfortable discussing a topic they might consider off-limits.
Check out the conversations I've been having about money in my latest videos, interviews and media appearances.
Video Content
Don't Miss Out!

ORDER NOW!
"An

excellent step-by-step guide

to navigate what can be time-consuming, uncomfortable conversations."
- Michelle Singletary,

The Washington Post
Resources for Talking With Your Parents
Readers of Mom and Dad, We Need to Talk can find the resources I mention in the book here. Get the In Case of Emergency Organizer and Scam Red Flags downloads to share with your parents by clicking the link below.
Resources
Start Your Day With My Money Tips
Sign up for my newsletter to get actionable advice to help you make smart money decisions.
(I won't spam you. I promise.)
Work with me on speaking events, campaigns and media appearances.
---
Don't miss the hottest ticket in town: How to Protect Your Aging Parents' Finances Webinar May 18 at 1 pm ET hosted by @getcarefull & @cnbank_pa and featuring tips from yours truly. It's free! Sign up today. https://us06web.zoom.us/webinar/register/WN_eGGn8dFRToux8wxFpyqGpA
Twitter feed video.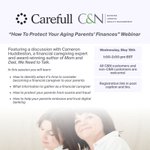 What do you do if your aging parent's identity is stolen? Check out my tips in my latest for @Seniorsmatter.
What do I do if my parent's identity is stolen?
Take the following steps to protect your personal information and other account information in case it falls into the wrong hands.
www.seniorsmatter.com
Be careful this election season that you don't accidentally sign up to make recurring political donations if you contribute to a candidate's campaign.
Watch Out for Recurring Donations You Didn't Intend to Make | Take Care
When contributing to political campaigns or charities, make sure you don't mistakenly sign up for monthly contributions instead of a one-time gift.
www.getcarefull.com
Load More...